Fresh off Digital 9 Infrastructure's recent investment in Arqiva, Thor Johnsen, Head of Digital Infrastructure at Triple Point, looks beyond the hype of the Internet of Things (IoT) and explores the possibilities of what IoT can deliver and the infrastructure required to make it a reality.
IoT has been a part of our vernacular for more than a decade. Much of the promise of automation and change in human behaviour has been centred around consumer applications. Whilst we have become accustomed to tracking our steps with smartwatches and watching apps on our smart TVs, the promise hasn't been fully delivered on the infrastructure that makes IoT possible.
For most industries and use cases, IoT is still in its early days. Alongside this is a shift in focus from operational improvement to business outcomes. Technology industry analyst firm, Gartner, states that "organisations implementing IoT are increasingly focusing on the business outcomes of the technology. IoT initiatives are no longer driven by the sole purpose of internal operational improvement." According to McKinsey & Company's recent report about IoT, three use case clusters currently dominate in terms of estimated economic value: Factories, Human Health and City.
Industrial applications maximise efficiency
While the average person likely thinks little about industrial applications, factories are perhaps the one area where the magic of IoT really occurs. Many of the use cases of industrial IoT centre around robotics, but also focuses on machine-to-machine (M2M) communication, big data, and machine learning. McKinsey specifically calls out operations management, increasing farm yield, and predictive maintenance as the three areas likely to generate the most value in 2030:
Operations management uses sensors to generate data in order to optimise processes, workflows, and staffing. Factories have an end-to-end view of what is happening in the facility and can reduce bottlenecks in real time.
Precision farming helps manage operations and increase production yields. Microsoft FarmBeats, for example, collects data that feeds into AI modelling to provide a more comprehensive view of field conditions. Overall, these types of precision farming applications are expected to produce up to $520 billion in economic value in 2030.
Predictive maintenance enables equipment to signal when maintenance is required to minimise production disruptions. BMW is proactively monitoring equipment with a custom IoT platform. Sensors within the systems can detect if there are unusual noises, so mechanics can address the issue before a breakdown occurs.
Modifying human behaviour
Unlike industrial applications, IoT in human healthcare is more focused on data to change human behaviour. McKinsey breaks these applications into three types of device: Wearables, Implants and Non-wearables. There are currently more than 450 million connected devices related to health care and fitness.
Wearable devices are probably the most well-known category as the global smartwatch market reached 127.5M units in 2021. However, these devices are more than what you wear on your wrist to track steps and workouts. Wearable biosensors can help doctors with disease prevention by monitoring temperature, heart rate, breathing and other vital signs to detect the early onset of diseases like Multiple Sclerosis and cardiac disease.
Smart devices that are inserted, injected, or swallowed are all considered part of the implant category. These can be used in a wide variety of applications from dental implants to monitor bone growth to sensors transmitting data to surgeons during orthopedic surgery to assist in the correct positioning of knee implants to improve musculoskeletal care.
Non-wearable devices can help with the detection of diseases like Alzheimer's. These less invasive monitoring devices, in combination with predictive modeling diagnosis, can help track the mild impairments in memory that alters patient's daily routine. Early intervention can greatly improve patient's quality of life and in some cases can slow down progression of the disease.
Smarter cities become a reality
Cities have become a rich environment for IoT innovation. Smart infrastructure not only improves quality of life, but can also enable cost savings and improved efficiencies. Public transportation and emergency vehicles can maintain schedules and arrive more quickly thanks to traffic monitoring. Cities can implement greener policies and manage power loads with smart lighting by tracking lighting usage and monitoring brightness of street lamps.
Smart metering is one of the most popular use cases for IoT at both a consumer and corporate level. Home users can better understand their energy behaviour and adjust accordingly. British Gas believes installing smart meters not only helps businesses save on their energy bills, but could also slash countrywide carbon emissions by 45 million tonnes – the equivalent of taking 26 million cars off the road for a year.
Interconnected investments to make a difference
At D9, our purpose-driven investment strategy targets the provision of key infrastructure for data transfer and data storage around the world, helping to address burgeoning demand for global digital communications. When it comes to IoT, we are looking beyond the hype and focusing on interconnected investments where IoT is really making a difference.
Our most recent acquisition, Arqiva, has a national IoT utilities connectivity platform, enabling smart metering and more efficient network monitoring and management for utility companies. Arqiva is delivering innovative solutions to manage data more effectively across the utility sector, comprising of over 12 million premises connect to Arqiva's smart meter networks with 50 million data points delivered daily. D9's subsea platform, Aqua Comms, is a part of the SMART Cables Joint Task Force that is piggybacking IoT sensors onto the subsea cables that provide the backbone of our global internet. This will increase the number of sensors monitoring the seabed for temperature changes, current flows due to melting ice sheets and volcanic activity leading to tsunamis by a factor of 40x.
The more IoT devices connected, the more data is generated. With the number of connected IoT devices expected to grow 18% to 14.4 billion globally in 2022, data centres will be expected to store, process and analyse more data than ever before. The time critical, latency-sensitive data will require more edge computing for data to be processed closer to where it is created. The energy-intensive data processing will also require the industry to focus on sustainability with data centre campuses that are engineered for optimal high-performance compute and built upon 100% renewable energy.
D9's data centre portfolio is ideally suited to process and store the global data sets generated by IoT devices and technologies. This includes both low-latency data at D9's connectivity-focused data centres, our landing station driven DC strategy (Sea Edge)and Volta, and the less latency sensitive and energy-intensive data sets at D9's 65 MW of sustainable data centres in the Nordics, Verne Global and Ficolo. These sustainable data centres operate on 100% baseload renewable power, emit just 1.6% of the emissions of an equivalent UK data centre, and have a total cost of ownership savings of 80% versus the continent and UK.
D9 creates shareholder value by investing in companies and assets that provide the critical digital infrastructure needed to democratize access to the internet and deliver a greener future. By building a diversified portfolio of investments across the key sectors, we aim to offer our customers access to a resilient and uniquely interconnected ecosystem. This ecosystem – from IoT where data is generated to terrestrial fibre, wireless networks, subsea cables and landing stations where data is transported to data centres where data is processed and stored – is the critical global infrastructure that drives our connected world. Our commitment to facilitating global connectivity, not only promotes economic growth and sustainable development, but also delivers recurring income and capital growth for our investors.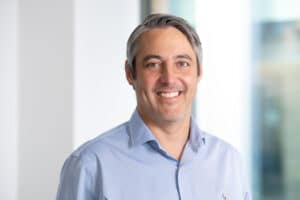 Thor Johnsen, Head of Triple Point's Digital 9 Infrastructure (D9). Find out more about D9.
Potential investors should refer to the information within the Prospectus which is available via the Documents section of the website and must only subscribe for or purchase shares in Digital 9 Infrastructure plc on the basis of information contained within it. As with all investments investors capital is at risk.